Logitech Meeting Room FAQs


What is the resolution and brightness of the LG displays?
All the LG Commercial Displays deliver Ultra HD native resolution (3,840 x 2,160). Brightness of displays are as follows: UL3J-B Series - 400 nits brightness for 50/55/65" sizes, 300 nit brightness for 75/86" sizes; UM5J and UH5J Series - 500 nits brightness; 55UR640S - 400 nits brightness.
What is the usage rating on the LG displays?
All displays are 16/7 Usage Rated with the exception of the UH5J Series displays, these models are 27/7 Usage Rated and have been applied to Digital Signage solution applications. All UL3J-B Series displays are Energy Star certified.
The LG wireless dongle, can I simply display my laptop wirelessly?
Absolutely. Each Microsoft Teams Room (MTR) solution featuring the UL3J-B Series includes 2 x LG USB Wireless Dongle Buttons. The UL3J-B Series displays include LG's One:QuickShare, allowing users to easily share a laptop or BYOD directly to the display without the need of loading software on your device. As soon as you stop sharing your device, the display reverts back to the Logitech Microsoft Teams Rooms priority input. This is a great feature for those who just want to wirelessly present (with one button push) to the local in-room display and may not have Teams Casting capabilities on their BYOD.
Can Videopro support the LG Displays from your Help Desk?
Yes, we can. Displays are remote monitoring and control enabled, meaning we can provide remote control and fault diagnosis from our Help Desk (subject to client network portal access being provided). We also provide display usage analytics reports annually for client review.
What about the mounting of displays?
Displays are mounted using an Atdec bracket systems. Equipment mounted behind displays in all Microsoft Teams Rooms from small upwards feature Atdec slide-out equipment shelves to facilitate easy maintenance access to equipment without requiring the LG display to be removed from the wall.

How do I know if the camera field of view is sufficient in my chosen space?
Our selected Video Meeting All-In-One Bars and PTZ Cameras deliver the required camera field of views (FOVs) typically found in the meeting rooms they are applied towards. For the Small Huddle / Booth system solutions, it is recommended to select the Jabra PanaCast50 option when you have a wider huddle table with four persons seated around it, with a person more closely up against the wall to the left and right of the display. In this instance, or any scenario where you may require an ultra-wide camera FOV, the 180 degree panoramic FOV camera system featured within the PanaCast50 makes for the ideal solution.
If ever in doubt, our consultants can quickly and easily provide you with a more detailed systems cut sheet (with further guiding measurements) whilst also completing a site survey verification process.

What is the microphone pickup range on the Video Meeting All-In-One Bars?
Microphone system pickup range is up to:
Logitech MeetUp - 4 meters
Logitech Rally Bar Mini - 7 meters
Logitech Rally Bar - 7 meters
Jabra PanaCast50 - 4.5 meters
Neat Board - 5 meters
Neat Bar - 5 meters
Neat Bar Pro - Not published, 5 meters min
Logitech Rally Mic Pod - 4.5 meters diameter
Logitech Rally Mic Pods can be added to Rally Bar solutions to increase microphone pickup range. These Mic Pods can be ceiling or table mounted with a Rally Mic Pod mount.

What about audio for large spaces?
Videopro has incorporated Biamp TesiraFORTÉ X 400 UC bundles into our Large and Extra Large Meeting Room solutions. These Microsoft Teams certified solutions include a TesiraFORTÉ X 400 audio processor that acts as the central connection hub. They also include Parlé Beamtracking Microphones (ceiling or table mounted options available), which actively track conversations from around the room, and Desono Loudspeakers.
These systems are ideally suited for typical office spaces with ceiling heights between 2.5 and 3 meters. If applying a ceiling-based solution, sufficient in ceiling cavity space will be required to recess mount the Desono in-ceiling speakers, speakers having a depth of 151mm. To ensure these Biamp audio systems are fit-for-purpose within any proposed meeting room(s), our Design Engineers cross-check solution suitability via a modelling process, we can make audio solution adjustments and tailor a meeting room subscription offer to meet your specific meeting room environment challenges.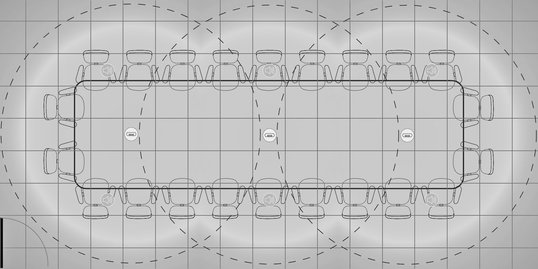 Extra Large Meeting Room ceiling microphones coverage mapping example
What's included with the Hearing Assistance Systems?
From Small to Extra Large in size, meeting room solutions are provided with an Infrared Hearing Assistance System from either Williams AV or AUDIOropa. Each system includes:
Transmitter and wall mount bracket
2 x Pocket Receivers
Neck Loops, Headphones, Signage
2 x Receiver Chargers
Meeting room solutions with Logitech Rally Bars or Rally Bar Minis include a USB Sound Card DAC, Audio Mixer & Audio-Technica Boundary Microphone to complete these systems.

Where is my Logitech Tap or Neat Pad touch controller going to be located?
System touch controllers are supplied with wall mounts, as a default being installed on the wall to the immediate left or right of the display(s). If your space has an island table and you wish to have the Logitech Tap or Neat Pad located on the table, we will inform you if this can be included within the subscription offer after we complete the site verification process with you. If we can utilise existing cable pathways or your network infrastructure at the table to connect the Touch Controller back to the system at the display, then we can adjust the solution without any subscription cost uplift.

Can I ingest a wired HDMI input and share via my Microsoft Teams Room system?
Yes, you can. You will be able to connect to a wall mounted HDMI input plate next to your Logitech Tap or Neat Pad (default position) at the front of room. If you have the Logitech Tap (with Cat5e kit) located on the meeting room table and have acquired a Microsoft Teams Rooms (MTR-A or MTR-W) solution, then you will also have the HDMI input on the meeting room table via the Logitech Tap. With MTR-A solutions, the HDMI input via the Logitech Tap does not support audio ingest in any form, however, there is an expected update coming before mid-2023.
Note that with native Microsoft Teams sharing, when you present to the room via a HDMI cable input, this will also share audio content, but when in a Teams meeting, it will not share the audio.

Can I wirelessly present in-room and share content in a video meeting?
You can wirelessly present straight to the in-room LG Display using the LG USB Wireless Dongle Buttons. Note that this solution is for quick in-room presentation and does not present through the Microsoft Teams Room solution. If you wish to wirelessly cast content from your Teams desktop client or mobile device to the Microsoft Teams Room, you will need to use the Microsoft Teams casting feature.

Is it possible to use another video conferencing application on a laptop (BYOM) via our native Teams Rooms solutions?
Bring Your Own Meeting (BYOM) can be provided via the Logitech Swytch conferencing upgrade that is available for our Microsoft Teams Rooms on Android (MTR-A) and Windows (MTR-W) solutions. With Swytch, users can simply plug their laptop with a USB 3.0 or higher Type-A or Type-C port into the Swytch Connector, allowing for in-room USB AV devices to be utilised in a non-Teams video meeting run from their laptop. Logitech Rally Bars (in Appliance Mode, MTR-A) hold the ability to switch into USB Mode (BYOM) when simultaneously connecting HDMI and USB directly to the Bar from a device.

If I get Microsoft Teams Room Basic for free, when would I need the Pro version?
If you add a Logitech Scribe Whiteboard Camera or Logitech Tap Scheduler to a room solution, or desire to have Teams dual screens featured at the front of room, you will need to acquire a Microsoft Teams Rooms Pro license, currently priced @ $54.90 per room/month with Microsoft. A detailed comparison of the added benefits of a Microsoft Teams Rooms Pro license can be found here.

What support services do Videopro provide to ensure my system(s) uptime is maintained?
Videopro supports our deployed solutions in several distinct ways to ensure uptime is maximised:
Business Hours Help Desk support, phone and email response, within 1 hour
Advanced replacement of faulty equipment, 1-2 Business Days (travel time permitting)
Full subscription term manufacturer warranties and replacement stock holdings
Remote support capabilities, fault diagnosis & control (via client network, cloud based)

What do my installation services include and exclude?
Our system(s) installation services include and exclude the following:
Inclusions
Complete installation of all system equipment to exacting ISO quality assured standards
Project Management & Coordination services
Rapid provision of CAD based design schematics; system design block diagrams, elevations and room equipment layouts. These will be adjusted after the site verification process is complete
Deployment Specialists provision of services for Teams Meeting Room technology integration
Coordination with the client upon system dependencies. We will assist you by clearly detailing requirements
Delivery of system operation user guides and user training (1 hour session)
Delivery and travel within capital city metropolitan areas
Exclusions
240V power works, including power conditioning and discrete circuits
Client network based structured data cabling and outlets
Network switches, routers and wireless access points
Chasing, core holes and cable concealment elements superior to standard PVC ducting and conduits
Provision of manholes and access panels
Wall reinforcement, patching, painting and making good
Recessed floor boxes, cable floor cover systems, table boxes
Provision of works outside of standard business hours, Mon-Fri, 7:00am till 5:00pm
Clients outside of capital city metropolitan areas will require further quotation for travel and delivery provisions as a cost uplift applied against subscription plans